1673 was the year that Jacques Marquette, a French-born Jesuit, discovered the area come to be known as Chicago with a group of Europeans and locals. It will not be until 1781 when someone has officially created a permanent settlement in the area. His name was Jean Baptiste Point du Sable, an African American. He chose the area near the Chicago river for trading purposes, however, soon the river will be occupied by Fort Dearborn.
1833, Chicago became a town and in 1837, Chicago had reached a population of 4170 and thus, became a city. In the 1840s, many Irish Catholics flocked to Chicago due to the Great Famine. Population boomed to about 300,000 as railroads developed. Heavy industry required skilled workers and many Europeans were attracted to Chicago such as Swedes, Germans, Dutch, and English.
In 1840, Chicago was the 92nd most populated city and, in just twenty short years, it became the 9th.
However, when the Great Chicago Fire of 1871 occurred, it destroyed many buildings and killed roughly 300 people. Rebuilding the city became a priority after that.
The Great Chicago Fire of 1871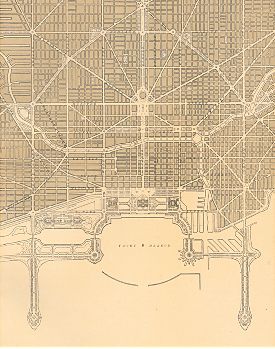 1909 Chicago Plan
Between 1870 and 1900 Chicago grew from 300,000 to 1.7 million due to its growing and flourishing economy.